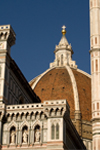 Tour of the Duomo
Price from $ 74.50
The Duomo Cathedral is the busiest and most popular attraction in Florence, and inside the Duomo, your local guide will take you on a fascinating tour of the history of the Duomo and of Italian Renaissance giants Brunelleschi and Giotto.

What's included?
- 1.5 hours Florence Duomo tour.
- Entire tour of the interior and exterior of the magnificent Duomo cathedral in Florence
- Ticket includes option for walking 463 steps up to the cathedral's dome
- Enjoy amazing panoramic views of Florence from the top of Brunelleschi's dome
- Learn about Filippo Brunelleschi, the creator of the distinctive orange dome
- Walk all 414 steps up Giotto's Campanile (the bell tower)

The Duomo was built over ancient church Santa Reparata. On the tour you'll see it's remains and learn about Christianity north of Florence 1,500 years ago.

You will have the option to get a little workout during your tour. First to the summit of Brunelleschi's immense dome, and then to walk to the top of Giotto's beautiful bell tower. Views of Florence from above and the Tuscan countryside will take your breath away. Don't forget your camera!

You also get to explore the cathedral workshop and see 15th century tools, which were used to build the dome, the ancient Church of Santa Reparata beneath the Duomo.

The tour is operated in English.
How do I get my tickets?
Shortly after your booking is complete your e-ticket will be sent directly to your email, just print it out and bring it on your tour.

Where does the tour begin?
The tour starts at the Duomo main entrance. Please show up 15 minutes before departure.
How long does the tour last?
The tour lasts approximately 1.5 hours.
Are there children's tickets?
No, unfortunately we do not offer children tickets for the tour.

Dresscode:
Inside the Duomo, for both ladies and men, knees and shoulders must be covered. No shorts of any kind are allowed. No exceptions are made.
Tour of the Duomo Info
Tour of the Duomo
The tour starts at the main entrance of the Duomo:
Piazza del Duomo
Firenze
Info
Tour of the Duomo
The tour dates and departure times vary from season to season. Check the calendar for availability.
Directions
Directions
See where the meeting point is on the map below.



View map