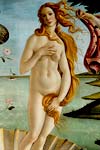 Tour of the Uffizi Gallery
Price from $ 74.50
The Uffizi Gallery is undoubtedly the biggest attraction in all of Florence! The incredible art gallery is known for housing beautiful paintings by the finest artists from the Italian Renaissance and the Baroque. On this tour you will see the very best works of art ever created in one of the most beautiful cities in the world.

What's included?
- Entrance tickets with skip the line prioriy access
- Avoid the massive lines in summer
- Fully licensed English speaking guide
- See some of the world's finest art, e.g. 'Birth of Venus' by Botticelli, 'Young Bacchus' and 'Medusa' by Caravaggio, 'Madonna and Child with Angel' by Lippi and 'The Annunciation' and 'Adoration of the Magi' by Da Vinci
- Additional major works of art include ancient sculptures and paintings by Rembrandt, Van Dyck, Raphael, Titian, and Michelangelo.
Visit One of the Oldest Art Museums in the Western World
The Uffizi Gallery is one of the oldest art museums in the Western world, built between 1560-1581. Over many years, sections of the palace have evolved into an expansive display area for paintings and sculptures either collected or commissioned by the Medici family.

When the house of Medici reached it's natural conclusion, it's treasures remained in Florence by way of the famous 'Patto di famiglia' (the Family Pact' signed by the last Medici heiress Anna Maria Luisa. This contract, signed on October 31st 1737, realized one of the first modern museums. The gallery had been open to visitors by request only since the 16th century. In 1765 it was finally opened to the public.
The tour is operated in English.
How do I get my tickets?
Shortly after your booking is complete your e-ticket send directly to your email, just print it out and bring it on your tour.

Where does the tour begin?
The tour starts at the Uffizi main entrance. Please show up 15 minutes before departure.
How long does the tour last?
The tour lasts approximately 1.5 hours.
Are there children's tickets?
Children under 18 years of age are free of charge when visiting with an paying adult.
Tour of the Uffizi Gallery Info
Tour of the Uffizi Gallery
The tour starts at the Uffizi Gallery's main entrance by the statue of Dante.
Piazzale degli Uffizi, 6
50122 Firenze
Info
Tour of the Uffizi Gallery
The tour dates and departure times vary from season to season. Check the calendar for availability.
Directions
Directions
See where the meeting point is on the map below.



View map