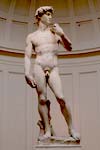 Tour of the Accademia Gallery
Price from $ 61.90
The Accademia holds many of Florence's incredible art treasures, such as Michelangelo's masterpiece David. This world-renowned art museum is a must-see, when you find yourself in the birthplace of the Renaissance. With our skip the line entrance pass you'll be inside and exploring away with your tour guide in no time.
What's included?
- Entrance with skip the line
- Fully licensed English speaking guide
- Michelangelo's finest sculptures, incl. his David
- Major works of art by Botticelli, Ghirlandaio, Andrea Del Sarto
Visit the Accademia
The Accademia is one of the top museums in the world and an absolute must-see if you're in Florence. The Accademia houses several thousand exceptional pieces, the most famous being Michelangelo's David.

After meeting up with your tour guide and the rest of your group infront of the Accademia, your guide will get you inside the Accademia and skip the massive lines. Inside you will learn about Michelangelo, see Michelangelo's remarkable unfinished series of "Prisoners", which were destined for the tomb of Pope Julius II in Rome (they line the route to David), his unfinished sculpture of Saint Matthew, and Botticelli's finest creations.

The Accademia Gallery is small when compared with the Uffizi Gallery, but the beautifl museum and it's incredible art treatures is a must-see.
The tour is operated in English.

How do I get my tickets?
Shortly after your booking is complete your e-ticket send directly to your email, just print it out and bring it on your tour.

Where does the tour begin?
The tour starts at the Accademia's main entrance. Please show up 15 minutes before departure.

How long does the tour last?
The tour lasts 1 hour.
Are there children's tickets?
No, unfortunately we do not offer children tickets for the tour.
Tour of the Accademia Gallery Info
Tour of the Accademia Gallery
The tour starts at the Accademia main entrance:
Via Bettino Ricasoli 60
50122 Firenze
Info
Tour of the Accademia Gallery
The tour dates and departure times vary from season to season. Check the calendar for availability.
Directions
Directions
See where the meeting point is on the map below.



View map